If there's one thing that Typhoon Ruby taught us, it's that weather forecasting is anything but an exact science.
And some forecasts can appear, in hindsight, like wild conjecture.
Days before Typhoon Ruby (Hagupit) even hit the country, different weather agencies were already releasing contrasting forecasts about its possible path. Most notable was the Joint Typhoon Warning Center (JTWC) forecast, which showed Ruby swerving upwards and away from the Philippines.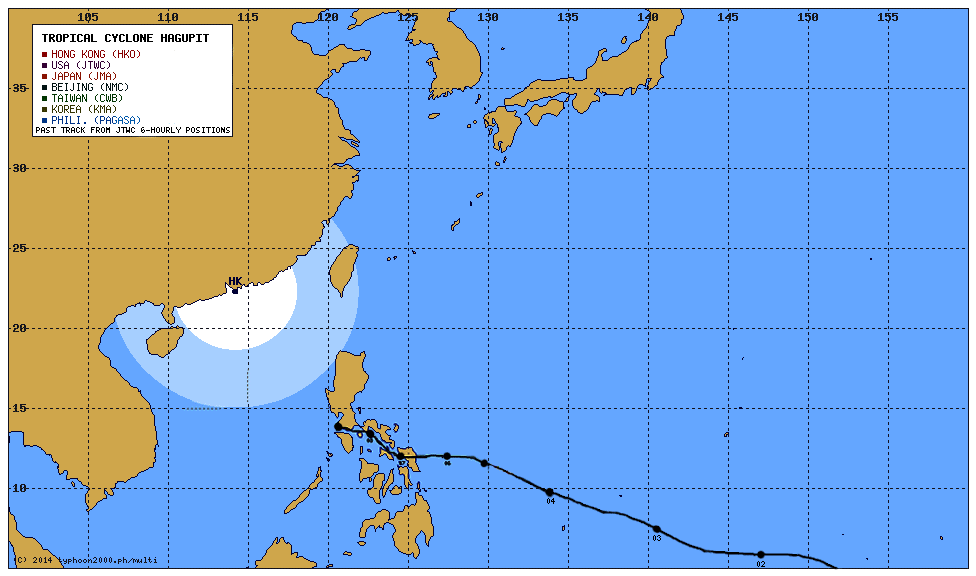 Amidst the flurry of preparation that led up to Ruby's arrival, people were wondering why the forecasted tracks were so different from one another. The more pressing question on everyone's mind was: Who do we believe?
In Ruby's aftermath, news reports even quoted DOST Secretary Mario Montejo as saying that PAGASA's forecast was close to the mark because the agency's meteorologists had access to climatological and historical data.
Tough balancing act
In an interview with News to Go's Howie Severino, IM Ready group head Dr. CP David, who is also connected with the DOST, said that making forecasts is always a difficult balancing act.
"Behind every forecast meron yang 'prognostic reasoning.' Ibig sabihin, ano ba yung nakakaapekto sa track ng bagyo, at (tinitimbang) nito yung mga factors at sino yung pinakamatimbang," he said.
But Dr. David also stressed, "hindi ito competition between weather agencies," adding that PAGASA also consults the forecasts released by other agencies.
 Dr. Gerry Bagtasa of UP Diliman's Institute of Environmental Science & Meteorology agrees.
"I think a lot of people get the impression that this was a 'battle' of forecasts. The differences may make it appear that way, but it really wasn't," he said in an email interview.
Knowing the future
Bagtasa explained that if we could only know the current state of the atmosphere, then we could also "know" its future state using certain equations.
However, it's impossible to know everything about the atmosphere in the first place.
"We can't exactly know everything that is happening in the atmosphere, because we can't just put weather stations everywhere. That would be impractical, costly, and impossible. And that's one of the main sources of error," Bagtasa explained.
Meteorological agencies try to compensate for this uncertainty by regularly collecting data from around the world and then sharing this information with each other every 6 hours.
But that also means that any forecast made is based on data that's already a quarter of a day old, Bagtasa points out. In addition, models themselves will always vary because of the different ways they handle weather data and how they simulate what's happening in the atmosphere.
So the best that anyone can do is to make assumptions and educated guesses.
"The point is that humans still don't know everything about the sky, and what scientists do is to just approximate things that happen in the atmosphere. (You could say that) because what we know are just approximations, this is also a source of forecast error," Bagtasa concluded.
Making the call
In the end, it boils down to a judgment call that depends not only on how sophisticated an agency's equipment is, but also on the experience of the person analyzing the data. It's up to a human forecaster to decide which model they think best describes the current situation and what will happen, not just based on their agency's model, but also on the other models available to them.
According to both Dr. Bagtasa and Dr. David, PAGASA made the right call, arriving at a different analysis of the same factors that everyone was looking at. Regarding PAGASA's statement, Dr. Bagtasa said, "Of course Filipino forecasters 'memorize (weather history) by heart,' so to speak. They are the ones who will best remember what happened here. But while it's important, it's not the main or only factor."
We also have to take into consideration the so-called "cone of uncertainty" that comes with forecast tracks. The path a typhoon takes isn't just a straight line; there's a 100 km buffer margin for error that could be where the typhoon passes.
So who should we listen to?
"Pwede nating asahan ang ating kakayahan at ang kakayahan ng PAGASA na tingnan at i-predict yung magiging weather system at yung outlook natin sa bansa," said Dr. David.
Dr. Bagtasa agrees that we should listen to PAGASA. "That is the reason why we have PAGASA, they are the official forecasting agency of the country. Yes, of course sometimes they get it wrong, but so does any other weather agency. That is not a reflection of PAGASA's inability, its actually a reflection of the state of the science of forecasting."
— with Jessica Bartolome/TJD, GMA News